CASUAL MEETUP @ONLINE ~ a casual talk with foreign entrepreneur in Japan! ~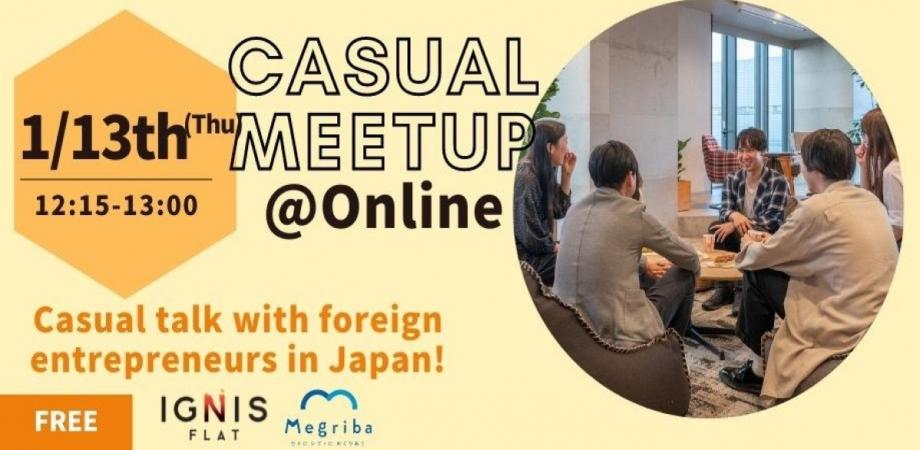 ※このイベントは英語(通訳なし)で開催されます。
"I want to start a business in Japan, but don't know where to start"
"I have a plan to expand business into Japan, but I'm a little worried
about doing business in a foreign country"
Do you have these kind of worries?
At this event, Dr. Koh, a startup director of IGNIS who is from Malaysia and has experience of starting a business in Japan, will listen to your worries or problem and share the experiences of starting a business in Japan with you.
The event will be held in English with a small group, so you can interact with the other participants who have the same problems, feel free to ask and talk in casual while eating lunch.
If you are interested in starting-up a business in Japan, please DON'T miss this opportunity!
We are looking forward to your participation!
Time Schedule
Thursday, January 13th 12:15~13:00 (Japan Standard Time)
12:05 – 12:15
12:15 – 12:20 Introducing IGNIS and Megriba facilities and self-introduction
12:20 – 12:55 Casual Talk
12:55 – 13:00 Closing
Place
Online (zoom)
Highly Recommended for
– Those who are interested in starting a business in Japan
– Those who want to make entrepreneurial friends
– Those who want to casually talk with foreign entrepreneurs
Entry Fee
Free
Capacity
5 people
Inquiry
Industrial exchange space Megriba
KDDI Ishin Hall 1F, 1-1-1 Ogori-Reiwa, Yamaguchi City, Yamaguchi 754-0041
email: info@megriba.jp
How to Apply
– Click "はじめての方" or "メンバー登録済みの方" (GET TICKET) button, below side of this event page.
– Sign-in or Register on Megriba, fill out the application form.
– Once you finished the registration, Zoom URL, the meeting ID and password will be sent to you via registration completion email.
– You can access to the meeting room 5 minutes before the event start. (From 12:10 Thursday, January 13th)

* You can also apply this event … https://ignis-casualmeetup20220113.peatix.com/
Notes on participation
* Please be sure to read!
– Please contact the Megriba in case of cancellation.
– Please note that the instructor is subject to change due to circumstances.
– We will briefly explain about IGNIS FLAT and the Megriba before start of the main event.
– Photo shooting, audio and video recording of this event is prohibited.
– Time extension due to the internet connection problem is not allowed.
– We might cancel this event due to certain circumstances. In case of cancellation, we will contact you by email.
■Staff Participant
Dr. Boonho Koh
Malaysian graduated from University of Tokyo with Ph.D. (Science) and MBA from Globis University. Working experiences in IT industry, global business expansion consulting and trading. Has been in Japan for over 20 years and has experienced in establishing company in Japan. With language skills in English, Japanese, Malay, Mandarin languages.
【References】
<About Megriba>
The Yamaguchi City's industrial exchange space Megriba provides opportunities for encounters, learning, and challenges for all people of a wide range of generations. There are business consultation specialists those will help you solve your problems. The name of "Megriba" means "a place to meet each other" with the thought that if you come here, you will always have the hints of encounters and growth that you have been looking for.
URL : https://megriba.jp/wp202204/
<About IGNIS FLAT Incubation Office & Space>
IGNIS FLAT is a startup-supporting incubation center certified by the Tokyo Metropolitan Government, that incubate new ideas and support startup companies. Our concept is "Ignite people's innovation mind" In a place where hidden talents with "Flames of Innovation" come across. Our professional incubation team that has worked on incubation centers nationwide will fully support the growth of startup companies. We keep creating motivation for the evolution of our society.
URL:https://ignis-tokyo.com/
<About Tsucrea Co., Ltd.>
A "Startup Incubator" Creating our bright future with entrepreneurs
Tsucrea's prime mission is to provide professional support services to entrepreneurs; another mission is to support the creators to enhance further creative value. Our business range is from event planning and consultation to support entrepreneurs, to further design, create and develop acceleration programs, product development.
URL:https://tsucrea.com/
[Privacy Policy]
Industrial exchange space Megriba will collects personal information at the time of registration and uses it for the following purposes.
<Purpose of use>
For contact regarding this event.
For reference during the consulting.
For statistical analysis.
To provide information on our services and events in the future.